If you are an enthusiastic user of Windows phone, you may have observed that default video player in Windows phones is not capable enough to play different video formats including, .flv, .avi and .mkv, etc.
Are you frustrated with using default video player? Now, is the time to say goodbye to your default player as in this blog post I am going to tell you ten best video player for Windows Phone 10 and 8 available in the market.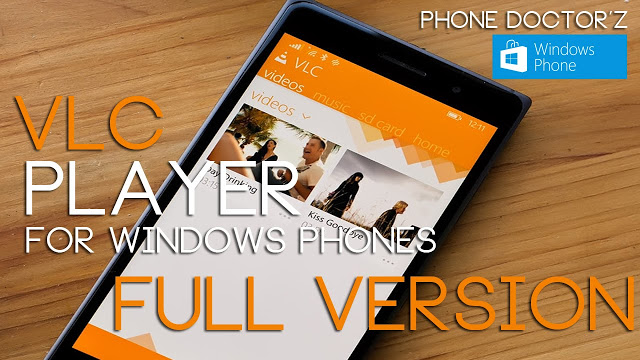 Top 10 video player for Windows phones
Here is the list of top media players for window phones that are totally worth contemplating without worrying about slowing your phone.
1. VLC Media Player
It is an open-source, portable and free cross-platform streaming media server and media player, which is developed by the VideoLAN project and it is one of the best video player for windows 8. It supports most video and audio compression formats, streaming protocols and files.
Its latest version is the first beta of the port of VLC media player to the Windows phones devices.
2. Moliplayer Pro
If you love to watch videos on your windows phones but frustrated with the time and hassle to do transcoding, Moliplayer Pro is the excellent option asvideo players for windows. It can play anything you throw at it and significantly enhances the video playback capability on the Window Phones platform.
3. Best Player
It is another powerful video media player that can play almost any type of video format. However, the only challenge with this media player is it is not available for free of cost. So, if you are thinking of taking the trial version, then again you will be disappointed as after 20 minutes of play the video will stop.
4. CCPlayer
It is a quite efficient replacement of Moliplayer and fabulous option for best video player for windows 7, 8 and 10. Again, this video platform also supports varied audio and video compression formats including, .flv, .mkv, .avi and also supports various subtitle formats, which include – SSA, SMI, ASS, SRT, etc.
5. QuickPlay
If you have an inclination towards those media players that offers clean interface, then Quick Play is the right option for you. The best thing about the media player is it has the inbuilt audio player which means we can quickly search the songs by genre, album title and song name.
It plays efficiently all the video and audio formats which are supported by the Microsoft Windows platform.
6. Video X Player
On this media player, you can play almost any video format that is supported by the Windows platform. It means you can make quite the hassle of using default media player. Its interface is on Metro style means; it offers you three customizable components from where you can smoothly access the video by favourites and folder name, etc.
7. MKV Player
When you have the downloaded torrent file, then it typically comes with the mkv file extension that cannot be played on any other media player. Hence, when you download the MKV player, you do not have to worry about anything. It supports all the .mkv formats.
8. MX Player
Finally, the best of the android media player is now available for the Windows phones for free, however, with the minor subset of Android version. Although, when you compare the windows MX player with Android MX player then the window's version lacks several features such as H/W media decoder, H/W media decoder, and subtitle support.
9. Video Explorer
It is one of the robust media player in the market that offers some amazing features including, folders navigation, gesture control, etc. It even lets you browse and play the videos from the SD card, WhatsApp folder, camera roll, etc.
10. XVideo Player
It has the built-in file manager and is one of the lightest media players. However, it is not as popular as above mentioned media players because it does not support many file formats. The only reason I kept it in the 10th position of top 10 Microsoft video player for window phones is due to its faster loading speed and user-friendly interface.
Thus, which free video player for windows should you use?
All these are top 10 media players, but my personal recommendation is to use either CCPlayer or Moliplayer for better experience and ease. These both supports a wide array of formats and have better quality controls.
If you know any other windows media player, then let us know, and we will include it in the list.