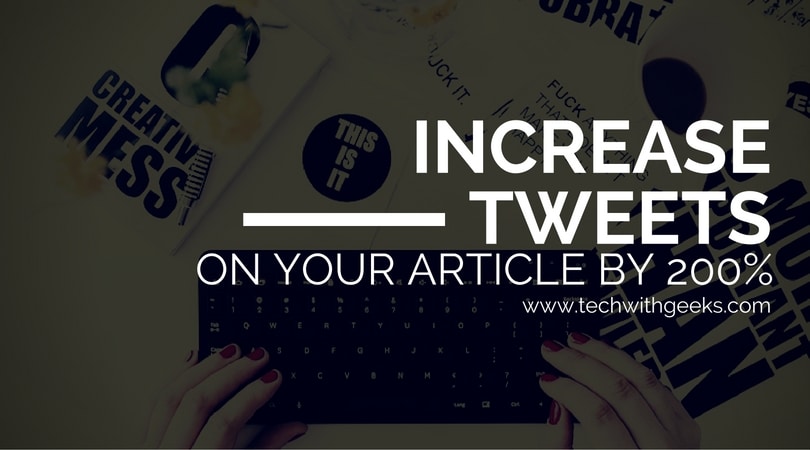 Why will people tweet your article?
Skip it, tell me why you will tweet my article on your twitter account?
You will tweet this article only if you know me personally, or you want to attract my intention toward you. Otherwise, there is no reason.
No doubt, I also tweeted articles occasionally due to my laziness. I am too lazy to log in my Twitter account and tweet any article which could not benefit me.
But, if you want to increase tweets on your article, then how you can achieve this?
Many psychological triggers help to make your visitors tweet your stuff.
Yes, they exist. Before going ahead, let me tell you why people will tweet your stuff.
People love to tweet things that make them look good, or they are offering any value to their followers.
How to make people to Tweet your Stuff?
I was watching a video. The video was not so good, but the end of the video makes me share that on my social account. He just played a smart trick there. He ended his video with a message that shares this video for three reasons.
It was an excellent Video. (If it was not a nice then check 2nd point,)
I worked Hard to make this good video (If you did not saw my hard work, follow the 3rd point)
Share it because I am asking to share you. You have to share.
I know it will not work for everyone. But I am sure it will convert 80% visitors to share.
So why not you ask your visitors to tweet your stuff.
Ask them for a tweet
Yes, it is true that if you ask your visitors to tweet your article, most of them will tweet. As I show in the above example, you can convert 80% of the visitors to tweet your stuff if you are using better Call to Action. 

Call To Action – Words that urge the reader, listener, or viewer of a sales promotion message to take an immediate action, such as "Write Now," "Call Now," or (on Internet) "Click Here." A retail advertisement or commercial without a call-to-action is considered incomplete and ineffective.
Just Call To Action is not enough to make people tweet your article, but you need to give them a valid reason why should they tweet this article.
Make it easy for them to tweet
Sometimes, Call To Action and perfect reasoning to tweet your article cannot work. There is a simple reason that the process of tweeting you're is too complex. No any tweet button nearby them can allow them to tweet your article directly.
If they need to follow the lengthy process to tweet your article, they will ignore it.
So if you want your visitors to tweet your stuff – make sure there's a Tweet button at their site that will make tweeting hassle-free.
Offer them something valuable to tweet
People always love to tweet valuable content which can give them and their follower high value. They don't just tweet anything. In short,
So if you want that your reader tweets your stuff, make you are providing enough value to your reader.
Keep in mind that people love to share informative, valuable, funny, and timely things.
Use Tweetable Quotes
Tweetable Quotes can encourage your reader to tweet your article. These Tweetable Quotes combine all the three psychological trigger that I have explained above because these also give a call to action, Quotes always informative, inspirational and they are offering value to your readers.
Even Neil Patel is also using this strategy in his articles. Check out Neil's t his article Business Advice In Three Words.
The post is simply a list of tweetable quotes. How did you think it performed?
"The post got over 417 retweets. And out of the 417 retweets, 283 of them came from the 54 retweet buttons within the blog post."
So why Tweetable Quotes work so well in making visitors tweet more?
With Tweetable Quotes, you give your readers some great copy to tweet (which will make them look good)
Tweetable Quotes are hard to miss because they are styled differently from the rest of the copy and catch the eye
it's super easy to tweet them – you just need to click on them.
Tweetable Quotes is a new copywriting hack to get more tweets on your articles
Check out the list what can be turned into Tweetable Quotes
Any quotes by famous people that you use in your article.
Short takeaways from your article.
Any statistical data.
Catchy phrases.
So after reading this post, you have too many ideas how to get more tweets on your blog post with tweetable quotes.
But the biggest issue is, how any can add tweetable quotes in which can be directly tweeted on just one click and how to style them with unique features which can encourage the reader to tweet your post.
I have a great solution for this. As you can see that, I have integrated few tweetable quotes in my article. It is all with the help of a great plugin, named as TweetDis, a premium plugin from Bloggerjet.com. 
Let me tell you some more about this plugin.
>>Click Here To Download TweetDis Plugin <<
Introducing TweetDis
TweetDis is WordPress Plugin launched by BloggerJet.com. It allows you to convert any phrase into a tweetable quote which helps you to increase user engagement on your blog post.
It is the best way to extend your reach and get a more targeted audience for your site. Peoples are always trying to increase the number of followers on their website, but the forget to maintain the relevancy of their followers. It causes to less engagement on your website and Twitter Profile.
So if you are using TweetDis, it allows you increase the relevant engagement on your profile and blog post because only interested people will tweet from your content.
Examples By Using TweetDis
Here are the recaps of the post with the use of TweetDis WordPress Plugin.
This is an example of its box layout. There are 16 different layouts available in the plugin. You can choose any of the styles according to your need.
[tweet_box design=" default"]Ask your visitors to tweet your stuff.[/tweet_box]
This is an example of its Hint Layout
[tweet_dis]If you are adding great value in your content, people will love to tweet your great stuff[/tweet_dis]
You can also make an image as tweetable.
– Click Here To Download TweetDis Plugin –