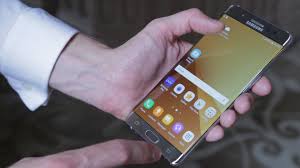 A 6GB RAM phone isn't new to a lot of  Smartphone freaks in China, this reason alone left a  lot of Samsung fans in a state of disappointment when a Galaxy Note 7 with just 4GB was announced. Samsung seems to have seen reasons with them and is now rumored to be working on a Galaxy Note 7 with 6GB RAM.
Reports available to us says Samsung is actually now set to announce a 6GB RAM version of the Galaxy Note 7. The 6GB version of the Galaxy Note 7 if it comes to reality will upgrade the regular 4GB RAM version to a version with a whopping 6GB RAM & 128GB storage.The 6GB RAM galaxy note 7 will be exclusive to China and will come at an upward price tag as well.
Confirming the news about the 6GB RAM + 128GB ROM high-end version, Samsung's Head of Mobile Communications Business, D.J Koh pointed out that a high-end 6GB RAM + 128GB ROM version for the Chinese market is actually in the works. He attributed the need for a 6GB RAM version for the Chinese Market to the fact that other OEM had since embraced the trend.
Aside from an increased RAM & storage size, the 6GB RAM galaxy Note and the standard Galaxy Note 7 is expected to share the same designs & specifications. The 6GB RAM version of the Galaxy Note 7 when announced will be exclusive to the Chinese Market and will be priced at about $1000.