Video Editing has become a task every other smartphone user indulges in today's scenario. In fact, the ability of the new age smartphones shooting high definition and quality videos has necessitated it even further. Video editing was a concept that was quite unheard of in the realm of a smartphone just a decade ago. It is a fact that Video Editing tools need a reasonably high RAM capacity and advanced features. Thus, it would be essential to find an app that works seamlessly with the resources available on your device. We list out a few great video editing apps for Android.
Top 5 Video Editing Apps for Android
Video editing tools come under a genre that has gone quite popular. This has been evident from the fact that Google Play Store is virtually filled with a host of apps that promise the best ever performance. However, it would be much essential to make a choice giving a proper weight to the essential features that an app provides.
That is exactly why we chose the best from the rest and compiled a list of best video editing apps for your needs.
#1. FilmoraGo
Brought to you by Wondershare, FilmoraGo is one of the excellent choices when it comes to the free video editors for your needs. It has all the features you would expect in a desktop video editing software.
Whether you are looking for the basic features in the video editing requirements like cut, edit or render or checking out the high-end features. You can also use it to create slideshow from your images. Adding music files and voiceovers to your videos should be quite a cakewalk with the app.The app also has a host of special effects like overlay and filter effects. Animated texts and motion elements are also available on the platform.
The user interface is intuitive enough. The app comes with an in-app purchase option, but you may not need as most of the features are free.
#2. Kinemaster
Kinemaster is indeed one of the promising video editor apps for Android. In fact, it should be the professional quality video editing app for your needs. It has features that most other video editing apps do not have.
Support for multiple layer video, audio and image files functionality is what makes it most professional in its requirements. Kinemaster also supports multi-track audio. The granular frame by frame support for the video along with the audio clip timing would make it an excellent choice for the high-quality editing you may find in the professional quality video editors. Some of the high-end features can be summed up as instant edit previews, precise volume envelope control, color LUT filters, speed controls, chroma key compositing and 3D transitions.
The free version comes with a watermark and if you want to remove it, you will need to opt for subscription model at $5 per month. There is no one-time payment option available.
You may also be interested in Photo Editing apps for mobile devices
#3. Adobe Premiere Clip
We are discussing imaging tools and how can we forget Adobe? Adobe Premiere Clip is indeed an excellent choice in your search for the best video editing apps for Android.
Adobe Premiere Clip is a good option among the video editing apps available on Android. However, you may not find the advanced features as on the professional video editing apps. One of the features we liked most about the app is its ability to auto-generation of videos based on your photos and videos. You have access to several tools to edit your videos manually. There are different effects and music tracks you can choose from.
The simple and intuitive interface offers you a drag and drop functionality which enhances the video editing task and makes it simpler. If you have access to other Adobe tools, you can import custom tools from them.
#4. PowerDirector
PowerDirector from CyberLink is free and quite powerful true to its name. One of the most comprehensive video editing apps for Android, it is indeed worth a try for your requirements.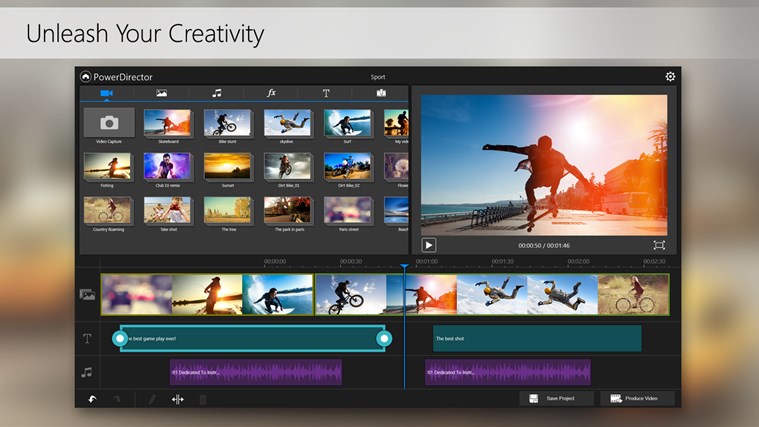 In addition to the common set of tools for your video editing needs, it also offers you various other effects and filters as well. You also have access to collage maker and slow motion functionality as well. PowerDirector employs the ubiquitous timeline mode. In fact, that should make it quite a good option and makes the task simpler. The interface is quite easy to work with.
The free version would have watermarks added to the videos. You can opt for the in-app purchases to remove the watermark. The app offers you a one-time payment if you are looking to go Pro. The Pro version also provides you access to several add-on features.
#5. ActionDirector Video Editor
The video editor is one of the most popular video editing apps for Android. The app is capable of performing the basic tasks related to video editing with ease.
The ActionDirector video editor offers you several features like adding your music files and employing slow motion. One of the features that would make it a formidable solution for your video editing needs is its ability to handle 4K videos. In fact, it is one of the rare editors that are capable of the feat. ActionDirector is constantly updated and that would make it always on the dot when it comes to adding the most requested features.
The app is available for free for most of the features, but you may also opt for the extra features by paying a one time access to the premium features.
In Conclusion
Well, that was a formidable list of top 5 video editing apps for Android. You should find all of them from either the official websites or through the Google Play Store. If, however, for any reason – you are not able to download the apps from Play Store, you may opt for the APK files from reliable sources. Please ensure that you are downloading the APK files from the sources that do not have malware or vicious files.
One of the best sources for downloading the secure APK files from the third party sources would be Next Gen APKs.The site offers you an excellent database of the top end apps for Android.