As we all know, YouTube is the biggest video streaming website, and you can find and watch any video on YouTube for free.
Do you know that you can make a Private video on YouTube? Yes, you can. I will share another article how to make YouTube video private later, but today, I am going to share, how to download Private YouTube Videos.
Keep in Mind:
You can Download Private YouTube Video only when you have the access to watch it. If you have no access to watch that private video, you can download YouTube video. So firstly you need to arrange the access to that particular YouTube Video.
Once you got the access, you need to follow the following steps to download Private Video from ogyoutube.
Steps:
Download and Install YouTube By Click.
Once the installation is completed, launch it and paste the YouTube Video URL, which you want to download.
If the video is private, it will ask you to log in. Just log in with your YouTube credential. (This account should have the permission to access that private video.)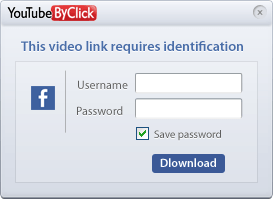 And finally, click on Download button. And downloading will start.
Tip:
Check the Save password option if you want YouTube by clicking to remember your username and password.
But, now if now you have another private video which is accessible with different YouTube account. So now you have to change the username and Password.
How to Change Your User Name and Password
Go to: Options➙ Accounts.
Now Click on Edit Account to change your username or password.
Click Delete Account if you want YouTube by clicking to forget your credentials.
Click Add Account to add a new account. This account will be used every time you try to download a Facebook/YouTube private video.
Final Words:
Hope now you can download private YouTube videos. So now, you don't need to worry about that the owner of the videos will remove the access from YouTube video, and you will not be able to watch it.
Let me know if you know any other method in the comment section. Share with your friends and let them also save Private Videos from YouTube.