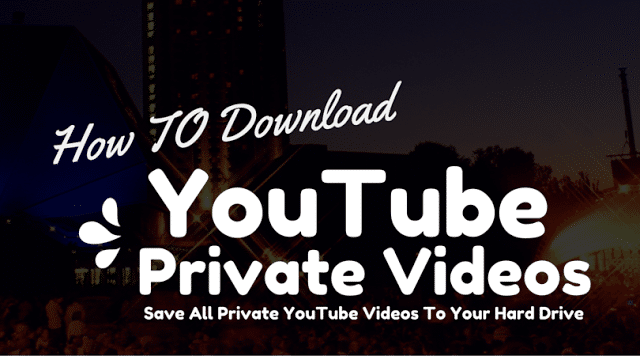 As we all know, YouTube is the biggest video streaming website, and you can find and watch any video on YouTube for free. Looking to download private youtube videos? The tips here should help you find a way to achieve it.
Do you know that you can make a Private video on YouTube? Yes, you can. I will share another article on how to make YouTube videos private later, but today, I am going to share information on how to download Private YouTube Videos. 
Youtube has millions of Video data uploaded by millions of peoples on their youtube channel. You will find there some videos which are private and you cant watch it without the permission of the channel owner.
You are badly interested in download and watch private videos but you are not able to do it because you don't know the correct process. That's why we have our back with a trick to download Youtube's private video.
The private videos will not be available when you search for it. Neither does it come up in your Suggested Videos list. How would you watch them then? Well, there is an option you can use. read on to know more about how to download Private YouTube video with easy steps.
Keep in Mind:
You can Download Private YouTube Video only when you have the access to watch it. If you have no access to watch that private video, you can download YouTube videos. So firstly you need to arrange access to that particular YouTube Video.
It should be noted that unlike the regular YouTube videos that can be downloaded without any hiccups, Private YouTube Videos can only be watched if you have been given permission by the uploader through the video settings of the video.
Whenever you find the private YouTube video that you are interested in, you can contact the channel owner and ask him/her for permission. That is the only option you can use if you want to know how to download private youtube videos. Not many uploaders will be willing to provide you the permission if you are an unknown person to him. That is sole because of the fact that any of the users who have got permission can re-upload the video as a public video. Obviously, no one would want to find their private videos uploaded as a public video.
Also checkout: DroidVPN Premium account apk
Once you got access, you need to follow the following steps to download Private Video from youtube.
Have you ever heard about Youtube ByClick? Well, YouTube ByClick is easy and powerful Youtube videos downloading software that help you to download and convert files to MP3, MP4, FLV, AVI, WMV, 3GP, WAV, and WebM formats. You can download full HD videos with the help of this. With the help of YouTube ByClick, you can download an entire YouTube playlist instantly. You also can backup videos from YouTube, Dailymotion Vimeo,  Facebook, and +40 sites in HD, MP3, MP4, AVI, and all other formats using our software.
Let's come to the point. Down below you will the complete step by step guide of How to download Private Youtube Videos with the help of YouTube ByClick. Just follow these steps to achieve it.
Steps:
Download and Install YouTube By Click.
Once the installation is completed, launch it and paste the YouTube Video URL, which you want to download.
If the video is private, it will ask you to log in. Just log in with your YouTube credential. (This account should have the permission to access that private video.)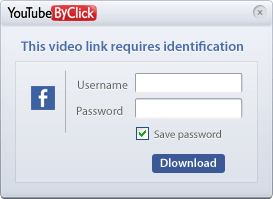 And finally, click on the Download button. And downloading will start.
Tip: Check the Save password option if you want YouTube by clicking to remember your username and password.
But, now if now you have another private video that is accessible with different YouTube account. So now you have to change the username and Password.
How to Change Your User Name and Password
Go to: Options➙ Accounts.
Now Click on Edit Account to change your username or password.
Click Delete Account if you want YouTube by clicking to forget your credentials.
Click Add Account to add a new account. This account will be used every time you try to download a Facebook/YouTube private video.
Final Words:
Hope now you can download private YouTube videos. So now, you don't need to worry that the owner of the videos will remove the access from YouTube videos, and you will not be able to watch it. YouTube by click can help you to download private videos easily.
If you want to download a private YouTube video, a private video downloader app is what would be the best option. You have several choices from that perspective. You also have the option of the private youtube video downloader online that would serve as a better source for downloading private YouTube videos with ease.
Let me know if you know any other method in the comment section. Share with your friends and let them also save Private Videos from YouTube.