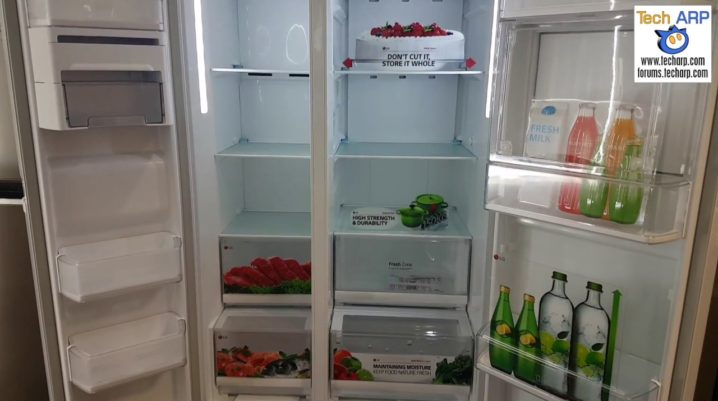 In the hectic lives we live today, our dependence on smart products is increasing by the gadget, so to say. They are fast becoming a necessity.
In such an environment, do you wonder whether there is a  refrigerator that can live up to the expectations of the whole family? LG's latest Side-by-Side refrigerator with Dual Door-in-Door seems to be the answer to this. It not only looks smart but has a large storage capacity and is eco-friendly.
In its endeavor to enable smarter lifestyles for consumers, LG Electronics is evolving and innovating constantly. The company has adopted new technologies to make its products 'smart' and easy to use and its ground-breaking innovations have raised the bar not only for itself but also for the industry. With growing needs, LG Electronics realized there was a need for larger capacity products, and therefore has introduced India's  largest capacity refrigerator. Consumers can now stop worrying about storing food and vegetables and other perishables as LG's Side-by-Side refrigerator gives them enough storage and more.
Some unique features of the LG Side-in-Side refrigerator are:
The LG Side-by-Side refrigerator with Dual Door-in-Door features has a fantastic storage capacity of 1,001 liters, more than any other refrigerator in the world.
What makes this refrigerator unique is its Dual Door-in-Door feature, offering revolutionary ways of maximizing space for frequently used items. This refrigerator has been developed to maximize storage capacity and reduce the loss of cold air while opening and closing of the refrigerator, reducing the loss of cold air by 43.7%.
LG's Dual Door-in-Door design feature is apt for home chefs all over the world and also convenient for the rest of the family. The multiple doors equipped to store, provide plenty of space for everyone in the family to store their favorite food items.
Although unseen on the outside, the Inverter Linear Compressor in the Dual Door-in-Door keeps food fresh and consumes far less energy. This advanced feature of LG's Side-by-Side refrigerator makes it effective and eco-friendly, consuming less electricity and keeping the noise level very low.
Read Also : Androrat APK Remote Administration Tool
LG's Hygiene Fresh technology applies 5-layers of air filter that eradicates most contaminants like dust and bacteria, keeping food free from air-borne bacteria. With an excellent compressor and utmost convenient design, LG's evolutionary Side-by-Side refrigerator helps keep food fresh for longer while making storage and organization easier.
This innovative approach has kept in mind even the smallest needs and requirements of consumers and intends to make life good for consumers in meaningful ways.The LG Side-by-Side refrigerator not only has great storage capacity but also has great aesthetic appeal, the LG Side by Side refrigerator encompasses the world's first Curved
Glass Door with a premium design and luminous black finish, making it sleek and stylish. LG offers a 10-year warranty for the Side-by-Side refrigerator.The 1001 Liter LG Side-by-Side refrigerator (GR-D34FBGHL) is priced at Rs 3,09,990 and is available at select LG Brand shops across India.