When it comes to online videos, YouTube is the king of them all. With thousands of videos available on it, it boasts of whopping subscribers and users per day. How to download YouTube for iPhone? If you are wondering how to download YouTube videos directly to the iPhone or iPad, this article is right for you. Officially, YouTube does not allow you to download the videos on its platform. You can only watch the videos on it unless
you have subscribed to YouTube Rad. But, YouTube Red is a subscription-based service and not everyone would be willing to spend a fortune on watching YouTube videos offline. That is precisely where you would find YouTube Video downloaders for iPhone or iPad. We will discuss a few methods on how to download YouTube videos on iPhone in today's post.
Well if you have iPhone or Ipad and want to download videos from Youtube then you are in right place. You allow you to only watch videos online and also you can save it offline. But you can't download videos directly from youtube. That's why we are going to tell you some of the best ways to download Youtube videos on your iPhone.
Best Applications to Download Youtube Videos
Well, Apple has been cracking the whip on a host of apps that have been claiming to offer you a free YouTube downloader for iPhone. However, it is quite possible to use YouTube download for iPhone if you are iOS 10 or 11.
Here are a few options that can be helpful in achieving your task.
Use Documents 6 App
Documents 6 is an app that would be practical enough for YouTube Downloads on your iPhone. You can easily find it in your App store. The app is meant to be used as a file management app but can double up as a YouTube downloader for iPhone. Documents 6 is available only in the UK App Store. So if you belong to another country then you have to another alternative to Documents 6 App.

Follow the steps here below to use it as your YouTube downloader app for iPhone.
Documents 6.
At the bottom right, you should find an icon that resembles that of Safari.
This will launch the web browser interface.
Now, search for the wavefront option or type in the en.savefrom.net link.
Keeping the interface open, go to YouTube, and search for the video you would want to download.
Tap on the video for additional options. Choose Share among the options.
Tap on Copy Link.
Next, come back to your browser and paste the link in the space provided.
Click on the green tick mark and choose the resolution you would want to download the video in
Tap the Download button.
Now, tap on Done and the video would be downloaded. You may rename the video if you want to.
That would conclude the procedure for downloading the YouTube Video on your device.
Use Softorino's Video Converter
This should be another great option for the YouTube video downloader for the iPhone app if you want to. If you think the above method involves a lot of working on the task of copying and pasting, this can be your best method.
The steps you need to go through our simple and easy to use. Please note that the tool is available on Windows and Mac. Softorino Youtube Converter has some awesome features like you can play the video, search the video, also you can download the Vimeo, SoundCloud and other platform videos and also you can download high-quality videos from there.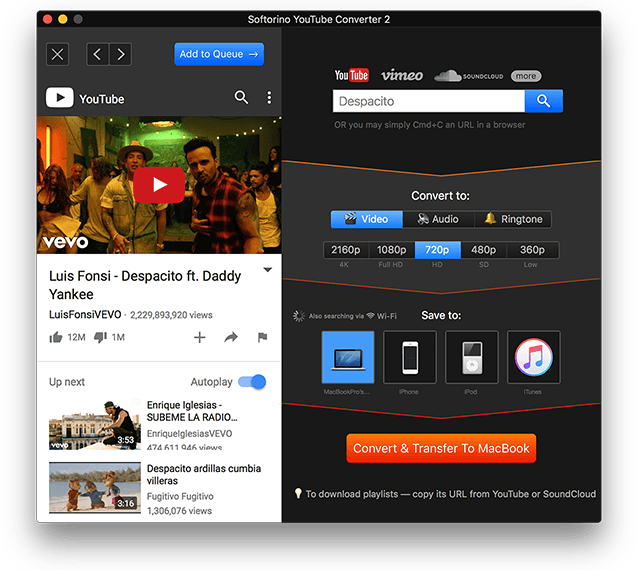 Download Softorino Video Converter from the official link
– https://softorino.com/youtube-converter
Connect your iPhone to your PC or Mac as the case may be. You may need to Trust the app
Head over to a web browser and copy the URL for the YouTube video you would want to download. You can follow the steps as in the previous tutorial.
The URL link would be automatically copied to the YouTube Converter.
You may copy multiple videos and can build a batch if you so wish.
Next, choose the quality of the videos you would download.
Now, click on Convert and Transfer to iPhone.
That would do it. Your videos will be downloaded and transferred to your iPhone.
As an alternative, you may also use YouTubeByClick for the Only difference between the two YouTube video downloader for iPhone options we listed, the YouTubeByClick is completely free with an optional premium functionality, while for using Softorino, you would need to pay a hefty amount. If you want to know more about Youtube ByClick you can check out our post about YouTube ByClick. 
Use FonePaw Video Converter Ultimate
This can be the best YouTube downloader for iPhone for your needs. In fact, the options to download YouTube videos directly on the iPhone have been found to crash and stop working in the midst of your process. This is the one the best alternative available for downloading Youtube videos on Your iPhone. Let's see how you can use it to achieving it.

Follow these steps –
Download FonePaw Video Converter Ultimate.
Launch the program and choose Download
Copy the YouTube URL from the video of your choice. The steps would remain similar to the ones you followed in the previous examples.
Paste the URL in the FonePaw program and click on Analyse.
The Video would be downloaded and saved on your PC.
That should complete the task with ease.
Is it legal to download YouTube Videos?
Well, downloading videos from YouTube may not be completely legal. In fact, the videos are covered under copyright, and using them without permission from the uploaders may involve copyright infringement issues. As per the terms of the conditions of YouTube, the content available on it is meant for real-time consumption alone and not meant for downloads. You can download the videos from Youtube but you can use it for promotional activities and also you can't upload it again on youtube because of some copyright issues.
However, if you are downloading them for personal use, it may not have any serious legal repercussions. Avoid making use of them for financial benefits and thus you may not end up with it affecting you adversely. Once you download the videos, you can edit them to meet your needs using the video editing tools of your choice  There are not any serious issue to download the Youtube videos for personal use and entertainment. So, just feel free and take advantage of this software to download the Youtube Videos on Your iPhone.
In Conclusion
Well, you may have noticed that we have not opted for describing the YouTube video downloader app for iPhone in this article. We have our own reasons. It is a well-known fact that major platforms around the world have been cracking down on the YouTube video downloaders. You cannot be sure which app can be a casualty during an ongoing action against the apps dealing with YouTube downloads.
We assume that the tips featured here have been helpful enough to download your favorite YouTube videos on your iPhone. If you are using any of them, do share your thoughts, opinions, and experiences with the tool with our readers. If you are using any of the unconventional options for downloading YouTube videos on your iPhone, you may share them as well.