If you have an iPad or are planning to buy one and you have an amazing DVD collection of classics, sci-fi, and series, the bad news is your favorite iPad DOES NOT has a DVD slot! Now that's shocking news for the DVD lovers. But the good news is you can convert your entire DVD collection into a format that your iDevice supports.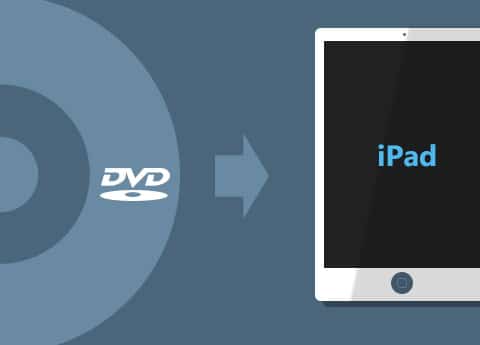 An iPad is a device that is an iOS-based tablet which is manufactured by Apple Inc. Since 2010 various versions of iPad have been launched. Since Apple products have unique Operating system exclusive to Apple, they don't support all formats of files and media. The latest iPad model is the iPad Pro was revealed in March 2016. It is 9.7 inches. An iPad can perform gaming, playing music, clicking pictures, shooting videos and internet functions like browsing and emailing. Gaming, GPS navigation, and social networking are also available. This has a multi touch screen and a virtual keyboard.
iPad does not need an introduction but the related features do need an explanation and description. If your favorite iPad doesn't have a DVD slot you need not be worried about it. Not having a DVD slot will not lead to your DVD library become scrap, alternatives have been suggested and we have some best of tools to convert DVDs into iOS compatible format.
Converting your DVD to iPad
won't be a tedious step. Once the DVD has been converted you have your own DVD library on the iPad. Enjoy and relish movies of your choice at any point of time and experience the iPad difference.
You can convert your DVD using Handbrake. Handbrake is an application that will allow you to convert your exclusive DVDs into your iPad.The Handbrake is highly recommended free software and can be used with a smoothness to convert the round DVDs into soft copies available on your iPad.
Simply download the latest version of Handbrake free software that is available.

Then you need to install the software on your device.

When you launch the software for the first time you will be informed of the need for additional decrypting software.

You will be guided to

libdvdcss installer which helps in decryption of commercial DVDs. We need to be sure that the version we download is the latest available one.

Now you can insert DVD and launch the Handbrake.

You will be automatically guided to the loaded DVD, here select the DVD.

Amongst the various titles of the DVD, you can preview which one to choose and then choose the appropriate title from the DVD.

          

You can select multiple titles and then move to select the presets.

Decombing and deinterlacing- are the tweaking features available in Handbrake software.

Tagging a movie with a metadata is also available if you wish to.

Once all is set you can successfully convert DVD into iPad compatible mode.
Like the Handbrake, we have yet another handy and free software; the iSkysoft iMedia Converter Deluxe. As the name suggests it converts media into iOS compatible modes.
The iPad can be of any of its versions like the iPad mini, iPad Air, iPad 4, iPad, iPad2, iPad 3, iPad or iPhone 5S, iPhone 5C, iPhone 5 and iPhone 4S. This works for all.
iSkysoft iMedia Converter Deluxe is designed to safeguard your media files tactfully and keep them ready to be played and used on your iPad or device. Since it is known that the iOS doesn't support all formats of the media files this software come in handy to convert the media files into formats that are good for the iOS.
iSkysoft iMedia Converter Deluxe is software that helps to convert video for the iOS devices without compromising on quality for the same. Generally while converting the videos there is reported to be a loss of quality of the content, but with iSkysoft iMedia Converter Deluxe, this barrier has been overcome. There are just a few simple steps that can be performed mostly by all and your valuable media files that are as of now not supporting the iPad device will be iOS ready.
Download and install the iSkysoft iMedia Converter Deluxe software preferably in the latest available version.

Connect your iDevice to the computer you want to transfer files from.

Now launch the iSkysoft iMedia Converter Deluxe software and add the desired files that you wish to convert through iSkysoft iMedia Converter Deluxe software.

The videos can be edited in the built-in editor of the software. 

The personification

 of the video is also possible.

Simply click on the convert option.

Now your videos and files are ready to be stored and viewed on the iPad.
Key Features of the iSkysoft iMedia Converter Deluxe
Not just a converter but also an editor- the iSkysoft iMedia Converter Deluxe helps to edit a video as well. Rotating a video, trimming a video, resizing, adding water text mark are all available features of the video converter.

Converts the videos in a smaller period of time.

Maintains the quality of the video that has to be converted to iOS.

iSkysoft iMedia Converter Deluxe Handy burning of videos to DVDs.

Downloading and recording of audio and video files is made easy.
iSkysoft iMedia Converter Deluxe is an amazing tool to convert the desired files. The aforesaid features make it one of the most desired software's.