The landing page is the first look at your site, the visual that the user stumbles upon, the screen that decides on how much longer this particular user will stay to explore.
Landing pages are various layouts, multiple colors, different purposes, various codes (HTML, CSS3, Bootstrap), and each has an added unique feature.
A landing page is a page on your site that is designed to convert visitors into leads. You must have heard the phrase "The first Impression Can Be Your Last Impression". Landing page works for your website exactly same like this.
We use money every day to pay for goods and services. The concept of monetary value can be applied to the logistics behind a landing page in that you're exchanging equally valuable information depending on which side of the exchange you're standing on. A visitor will fill out the form on the landing page because they believe the content they are accessing will be valuable to them.
We have another post for you which have a list of multipurpose WordPress themes. Have a look at these as well.
To decide on which one would be the best for your particular venture, templates of these landing pages come in handy.
On Themeforest.net, not only do you get to buy these templates, but you also get to experience a live preview of how each landing page theme will look in the final draft.
Taking a look at the ten best Landing Page Templates on ThemeForest.
List Of Responsive Landing Page Templates
Layer – The Most Converting Landing Page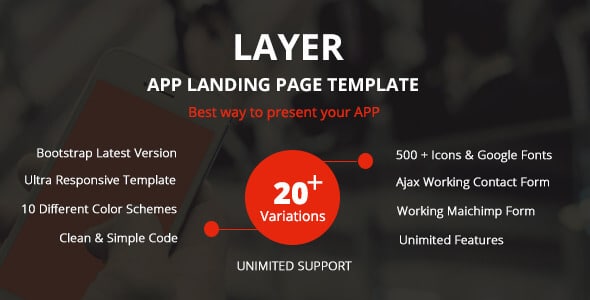 An HTML 5 Layout landing page,  Layer also supports Bootstrap and CSS3. A text and image slider, integrated with MailChimp and AJAX working for contact, along with more than 20 layout options, makes Layer multi-featured.
Bonus points include more than 500 icons and fonts, 10 color options, and an ultra-responsive interface with a simple layer that allows easy customization.
Professional Photography Landing Page Theme
This landing page template supports Twitter Bootstrap 3, along with HTML 5 and CSS3. A one-page landing template, Professional Photography comes with 7 color options, 2 layout variations of individual and studio, and the option to choose fixed with the gallery or customizable gallery.
AJAX enables easy contact working, and PSD helps object replacement. You are getting the detailed documentation, HTML, CSS, JS and PHP files for all given options and PSD for a single color option with the landing page.  This Landing page is also compatible with  IE9, IE10, IE11, FireFox, Safari, Opera and Chrome browsers.
You are reading: Zanti Apk
ransomware
Bonus points include easy scrolling, multiple icons and fonts with animations, and compatibility with phones, PC, Desktop or Tablets.
Portland – Mobile Friendly Landing Page Template
Portland is a product display landing page, for product selling or displaying sites and apps. It works with HTML 5 and Bootstrap 3 and is integrated with Paypal, Mailchimp, and email communication options. Background video and animations are available, along with W3C validation and various widgets.
Bonus points include lucid documentation allowing easy customization and a simple to use and understand layout.
Eventus Landing Page Template
Working with HTML 5, CSS3 and jQuery, Eventus is a very well layered and laid out landing page. Integrated with a jQuery slider, a jQuery fancy box, Eventus also comes with W3C validation, PHP subscription, and PSD.
Bonus points include web compatible fonts and a responsive interface.  If you really want to make your website's landing page like this just order it now.
Malooka Template For Landing Pages
Malooka supports HTML 5, CSS3, Bootstrap 3 and jQuery. With 8 options for home screen layouts and Flickr and Twitter feed integration, landing page Malooka is as innovative as its name. Also enabled are options between some fonts and animations, Google maps, a newsletter format does no database connection is necessary and simple code.
Bonus points include the simple code leading to a responsive interface with easy customization, and multiple browser compatibilities.
Creatorica Template
Working with Bootstrap 3, HTML 5 and CSS3, Creatorica is a landing page on Themeforest that like a few others also has AJAX communication options and LESS code to simplify customization. Other codes include HTML and JS.
Bonus points are 7 color options and some animation options to choose from.
Fifteen – Amazing Landing Page Theme
Fifteen is another cross-browser landing page template that supports HTML 5 and jQuery. Multiple options for fonts and icons along with the compatibility of Google fonts makes Fifteen visually efficient. The layout is newsletter type and has a modern design with easy documentation.
This landing page template can be used to promote web apps, mobile apps and all kind of marketing and startup websites. Quick and easy to set up. This landing page is perfectly suitable for click-through landing page, Lead generation landing page and web & mobile apps.
Bonus points include 12 layouts to choose from, easy customization with a responsive environment, and SEO friendly material.
Piece – Template for More Conversions
This lightweight and tailored landing page template have HTML 5 and CSS3 support, with working contacts and cross-browser compatibility. It has layout variations, and Google approved fonts and icons.
Bonus points include the responsive interface with easy customization and free support.
Biznex Landing Page
Supporting HTML 5 and CSS3 along with Bootstrap, Biznex is a multipurpose template for a landing page with cross-browser compatibility and a responsive interface. With a captcha integration, Biznex is set apart from the rest, also with web-friendly fonts and easy customization.
Bonus points include parallax or parallax layout option and a 960 Grid Design, along with a blog for tips and support
Mix – Landing Page Theme
The landing page template Mix supports Bootstrap 3, HTML 5 and CSS3. It is integrated with working contacts, font awesome icons, and Google fonts. Also featured in Mix, are W3C validation, PHP and PSD support and video backgrounds.
Bonus points include Google Analytics, Price Table insertion and a choice between 2 layouts.
The first impression is always the last impression, so make sure it's a lasting one with one of these marvelous Themeforest landing pages.