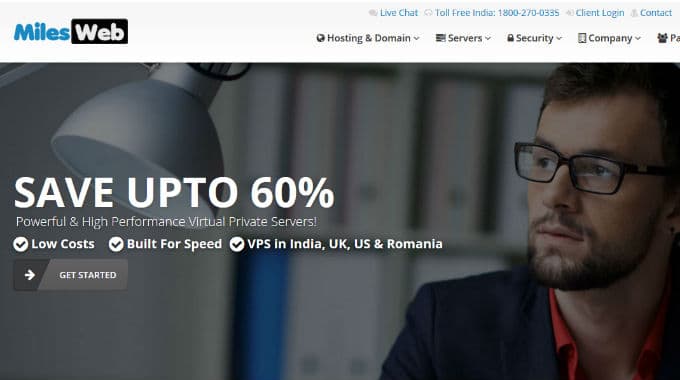 VPS hosting is for those who want the benefits of dedicated hosting without having to pay as much. Whether you are a beginner or a tech-savvy specialist, MilesWeb offers value-for-money VPS hosting solutions through its data centers located in United States, India, UK, and EU. Featuring industry-leading, branded hardware, MilesWeb's VPS hosting solutions mean a high degree of flexibility, stability, and speed. If you think it's time to move on from your existing shared hosting plan because your website (s) and needs have grown, there are many reasons for choosing the VPS plans from this hosting provider. The hosting company offers both self-managed and un-managed VPS hosting solutions.
MilesWeb VPS – Equivalent to Dedicated Hosting
The benefits of MilesWeb's Linux VPS are equivalent to enjoying the benefits of a dedicated server. This includes dedicated-server-like features at affordable prices. It is the perfect hosting solution for sites that can no longer be sustained with shared or reseller hosting.
Easy & Quick Setup
Most people have misconceptions about VPS hosting that it is not only difficult to setup but complex to manage. This is because of the complexities associated with dealing with other virtual server hosting providers. MilesWeb's team helps set up your virtual server packages instantly after the order is confirmed.
Admin Access
When you sign up for MilesWeb's VPS hosting, you will get admin access to your account. Install any web applications that you need. You get complete freedom and control as an administrator. The private server environment is yours to use.
Reliable Server Performance & Stability
MilesWeb's Linux VPS plans get their computing power from dual hexacore processors in its main host server. This means unmatched performance and stability. The VPS has been set up as hardware virtualized server environment.
Get Total Control Over Your Hosting
VPS hosting solutions are meant to provide you total control over your virtual server environment. And that is exactly what MilesWeb offers. When you choose MilesWeb's VPS hosting, you get full root SSH access. It also allows you to use the API and write your own code to manage and control your virtual server environment remotely.
Ease of Use
Most users think of virtual servers to be something too difficult to use and manage on their own. With MilesWeb's VPS hosting solution you don't have to worry about this. You can access, control and use your virtual server using an intuitive and simple VPS control panel interface.
But the level of control doesn't just stop there. You can also monitor the server using real-time graphs. The control panel UI also provides you information about server load and memory usage.
Real-time Monitoring
MilesWeb assures that your virtual server will remain up all the time. They are continuously monitoring and scanning their virtual server host nodes and the running services. They use the most advanced technologies to minimize or prevent any attacks or issues. The company uses industry-leading security technologies to keep your data safe and shielded from attacks.
Customizable Environment
With total control, MilesWeb also allows you to customize the hosting environment. This means more control over your virtual server environment. Install any program or web application. Use your own PHP.in files or modules to create a customized VPS environment. Whatever your kind of business, you can install any type of application to power your business operations.
You are reading: Zanti Apk
ransomware
Host All Your Websites
Shared hosting is limited in allowing the number of websites you can host. MilesWeb's VPS hosting allows you to host multiple sites simultaneously on your virtual server. And you can manage all those sites from the same control panel UI.
This means massive savings for those who have multiple sites and blogs – lesser efforts and lesser costs! Manage your hosted sites and multiple databases with utmost ease using cPanel or Plesk.
Speed Means Better User Experience
There are many factors that contribute to make MilesWeb's VPS hosting deliver high speed and performance. The most important ones include:
Branded, high-quality server hardware.
Powerful management tools.
Low-latency network.
When your pages load faster, it not only means better user experience but improved search rankings too.
Scalable Hosting
Your business, operations or applications keep growing with time. MilesWeb's VPS hosting allows you to scale your account's resources in real time. You can increase the memory allocation even without a reboot.
MilesWeb – Affordability Meets Power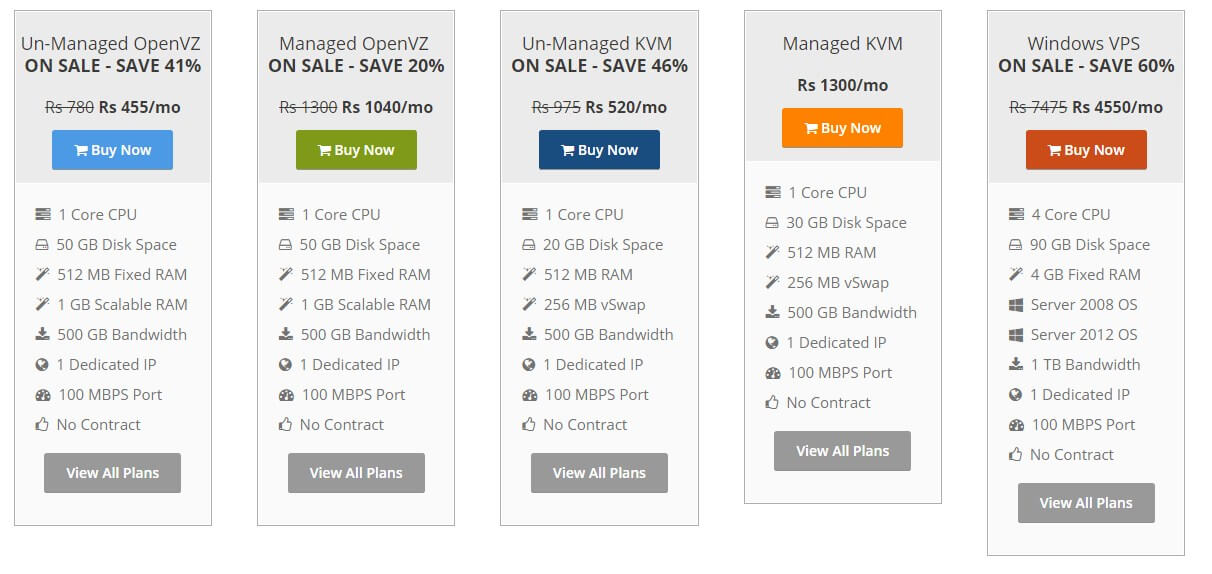 Virtual private server plans are typically known for their hefty prices. If you want to have your own standalone server at amazingly low prices, MilesWeb is the ideal choice. The company also assures that renewal will never be increased as long as you continue with the account.
The 5 VPS hosting plans from the trusted brand and their main features are as following:
Techie VPS: Rs. 1,040/mo. for single core processor, 50GB storage, 0.5GB RAM, 500GB bandwidth and 1GB scalable RAM.
Executive VPS: Rs. 1,560/mo. for dual core processor, 100GB storage, 1GB RAM, 1TB bandwidth, and 2GB scalable RAM.
Competent VPS: Rs. 2,600/mo. for dual-core processor, 200GB storage, 2GB RAM, 2TB bandwidth, and scalable 3GB RAM.
Sharp VPS: Rs. 4,160/mo. for 3-core processor, 300GB storage, 3GB RAM, 3TB bandwidth, and 4GB scalable RAM.
Expert VPS: Rs. 5,200/mo. for quad-core processor, 400GB storage, 4GB RAM, 4TB bandwidth, and 5GB scalable RAM.
All the plans come with a single dedicated IP.
All the VPS hosting packages from MilesWeb are backed up by 24×7 uninterrupted professional customer support service. If you are already using a VPS and looking to scale further then do check our MilesWeb's dedicated server plans.
You can ask your questions through comments below.