In this internet era, nothing more is as important as getting the traffic to your website. This crucial aspect decides the future of the website as this directly means how your website has reached to the target audience. Getting noticed by people online can be tough given the heavy competition as well as the relevance of website. The traffic to the website can be increased by following methods
Social Media
Top quality articles
Paid Promotion (Advertising)
Social Media promotions
Social networking is very important, given the fact that 69% of the internet users are using some form of social media. Good post attracts lots of people towards your website. There are many ways to use the social media for your advantage to boostwebsite traffic.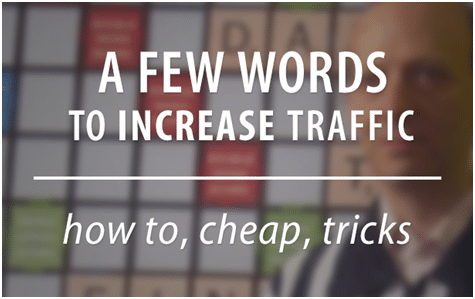 1.) Facebook Page
Facebook page for your website/company is one of the fastest ways to share the new articles posted in your website to the followers. It is also a good way to promote the website to larger niche. Always check out your follower's reaction to the articles which you have posted, depicting the way in which the article is perceived. Tagging famous pages/celebrity helps in boosting the reach of the website.
2) Sharing the same content again
 When an article is shared for the first, it Iam that few people actually see the post when we share it. The reach of the article to the interested party is limited by the active members in the social media. Hence sharing the article after 1-2 weeks of its initial appearance is a good way to attract new followers. You can take help of Contentmart freelance content writers to get top notch quality content or to tweak the already written article.
3) Hastags
 Hashtags have become an inseparable part of social media life. They are present in all social media websites. Hashtags can help you understand  what people are thinking in connection with your website and products and can be used to make your content reach the intended audience.
4) Visual elements
Articles with images,gifs and video get more visits,clicks and share compared to normal posts. Usage of hashtags and emoticons connect deeper with people as visual memory is more powerful than the normal one. It leaves a long effect on the user.
Top quality articles
1) Article with rich content
 Articles with rich content and good quality get ranked better in search result. In order to write good articles taking help ofContentmart.com that will let to hire top SEO copywritersfrom all around the globe at affordable rates. Contentmart is the best in business to  provide top-notch quality copywriters and articles. Hiring one such copywriter will boost the reach of your article.
2) Good Article title/headline
 As the saying goes, first impression is the best impression, the article title is so crucial in attracting the user's attention in reading it. A catchy headline can dramatically increase views when shared on social media. Good articles with catchy content can be written with the help of content writers ofContentmart.
3) Addressing the needs of niche
 A website must be designed is such a way that It meets the needs of the particular niche. To make the audience regularly visit your site, make the niche your expertise and start posting articles extensively about the niche.
4) Integrating Video content
Text-based content is all well and good, but video can be a valuable asset in both attracting new visitors and making your site more engaging. As mentioned earlier, content is easily remembered by the user when it is in the form of visual form. Hence making use
Paid Promotion
Paid promotion has been the technique used for the past 20 years and is the most effective method to boost your traffic website. Starting out an affiliate program,giveaways and email marketing are some of the ways for promoting your website.
Adwords and other PPC Advertising
 Adwords is probably the most efficient method to generate raw traffic for your website. You can use Adwords by Google to target ads to customers in certain country.
2) Sponsored Reviews
Paying for some of the sponsored reviews is a good way to promote the website. These help in bringing traffic and RSS subscribers. You just have to pay a low price to get a large amount of reviews from small no of people. Contentment is one of such website providing good content reviewers.
3) Email Targeting
Using email to improve organic traffic on your website, as well as your profits, can be incredibly effective. Email lists are still considered the best marketing tool for small businesses.  Such methods are widely adopted by small business all around the globe to promote their website. Care should be taken that the frequency of the mail shouldn't be high as the user might feel it annoying to see email flooded in their mailbox.